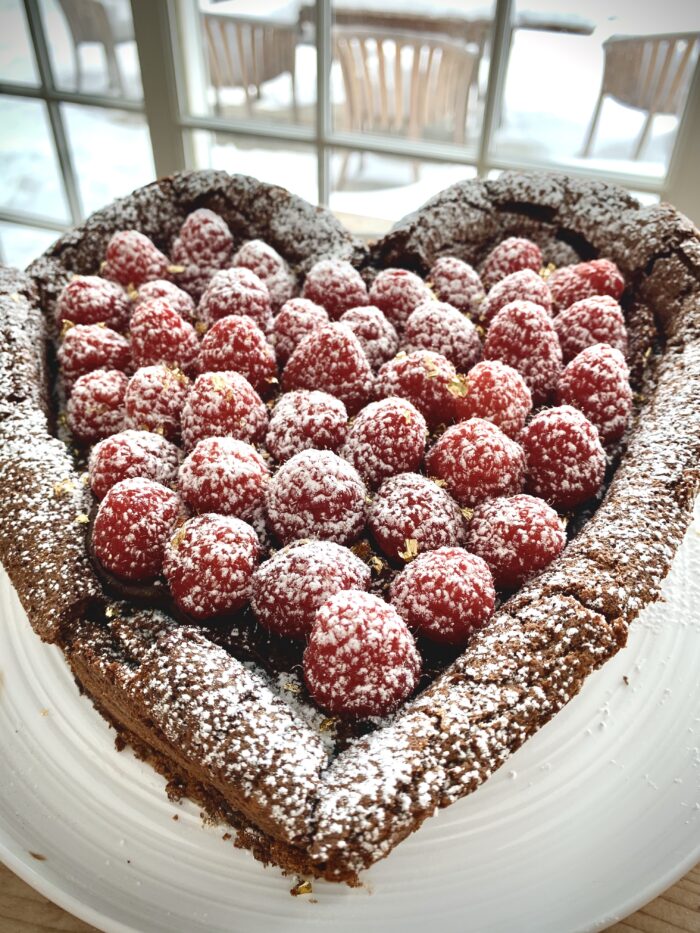 I hope this finds you well! Today, I want to share my recipe for an Easter (or Valentine's) Chocolate Ganache Cake. Or my new Snow Day Chocolate Ganache cake!
I already have a fabulous Chocolate Ganache Cake on this website, but I thought I should give you the other recipe I use for chocolate cakes.
New Recipe
My new recipe only uses eggs, butter, cream and chocolate so, in these days of limited shopping trips, these ingredients may already be something you have in your fridge and larder. The other ingredient is either raspberries, or if you are making this for Easter, mini eggs.
This is so good. Might be my new go to chocolate cake.
If you want to see a demo, watch my live webinar from April 10th on HAYVN's you tube site.
My original recipe, which is a little denser due to the addiction of ground almonds, is the raspberry topped one that an be found here and a link to my dodgy YouTube video is here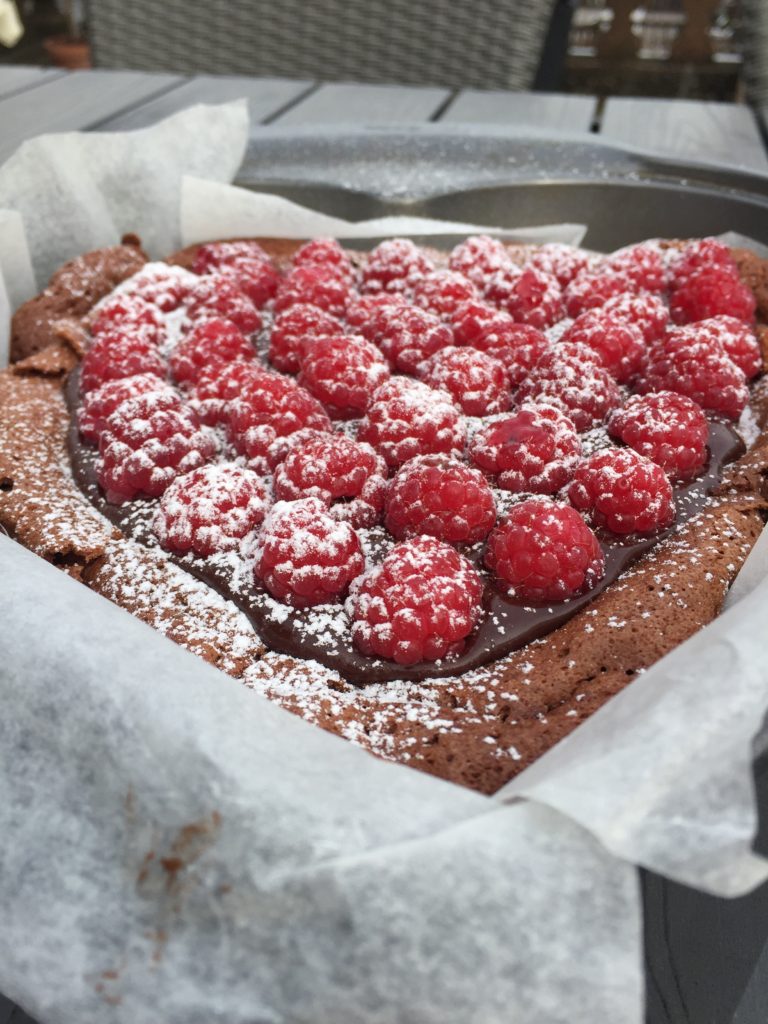 I have also changed out the recipe by adding mini Easter egg as a topping, but by all means stick with the original raspberries.
Easter or Valentine's Chocolate Ganache Cake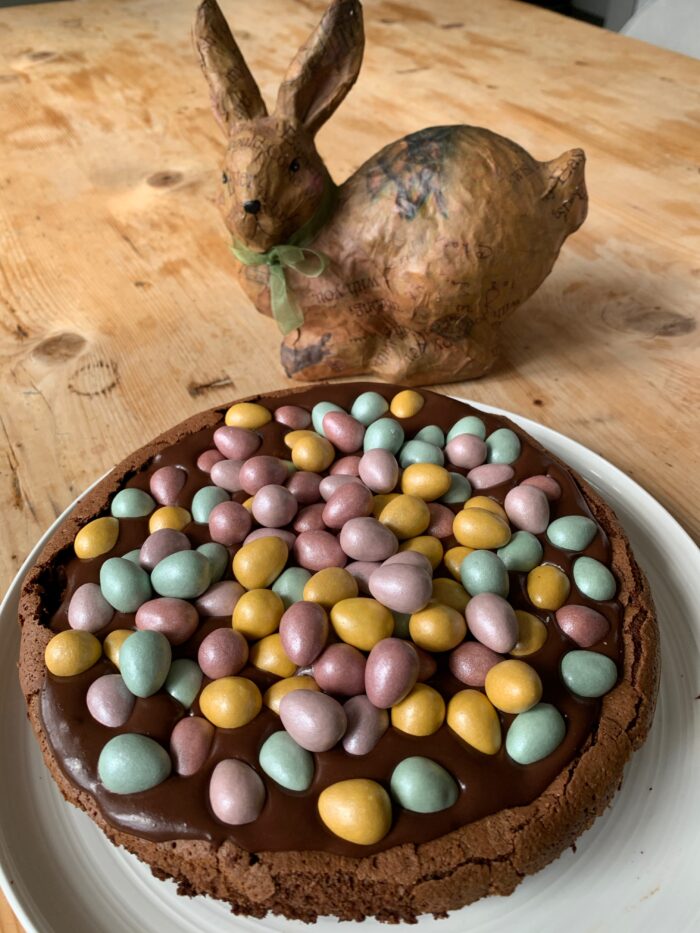 Ingredients
Cake
9 ounces chocolate ( I like a mix of plain and milk, cut into pieces)
11/4 sticks/5 ounces/140g butter, cut into slices
6 eggs, 2 whole, 4 separated
1 cup /7 ounces/190g of sugar, divided 1/3 for the egg whites and 2/3 for the eggs and egg yolks ( if you use half milk chocolate you can reduce the sugar by a couple of ounces or 1/4 of a cup)
Topping
1 cup/half pint heavy (double) cream
8 ounces chocolate ( I use a mix of dark and milk)
mini eggs or raspberries, or just leave plain!
Powdered sugar and any sparkly toppings you have to hand!
Method
Cake
Preheat oven to 350F 160c
Grease and Line a springform 9inch tin
start by making the chocolate mixture as this needs to cool slightly before you add it to the eggs
place the chocolate and butter in a heat proof bowl over simmering water and heat until melted – leave to cool slightly
add four egg whites to a bowl and whisk to soft peaks with 1/3 of the sugar
in a separate bowl, add the four egg yolks and the two whole eggs and whisk with 2/3 of the sugar
add the cooled chocolate mixture to the egg yolks and mix well
fold the egg whites into the egg and chocolate mixture
pour into the prepared tin and bake for 40-45 minutes until no longer liquid in the middle
The cake will rise, but upon cooling it will fall in the middle. This is exactly what it is supposed to do!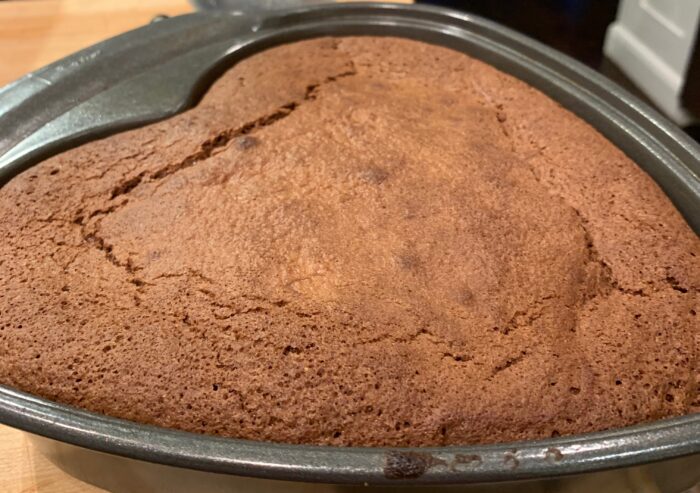 Ganache
Put the chocolate in a bowl or jug.
place the cream in a pan and bring to just boiling
pour the cream over the chocolate and leave for five minutes
stir to mix the melted chocolate and cream together
leave to cool, either on the kitchen counter of in the fridge
To Assemble
Once the cake has cooled, place on a plate. It may be a little fragile but you can stick any bits that fall off with the ganache and no-one will be any the wiser!
You need the ganache to be pourable, so if it is too firm, you can reheat it in the microwave.
Fill the center of the cake with ganache, then top with Easter eggs or raspberries.
To Serve
As with all desserts this is best served with some chilled cream or creme fraîche!
If you make this tag me on facebook @carolynsabsolutelyfabulousevents or instagram #carolynsfabfoods
Happy Valentine's Day!