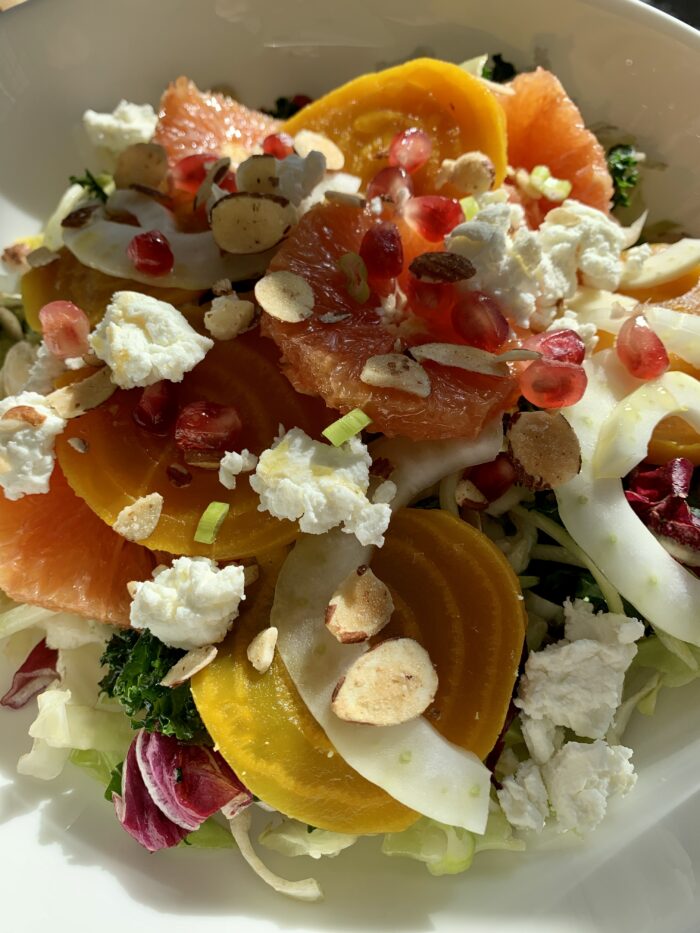 We are now in prime citrus season. February can be a little bleak, so after months of hearty soups and stews, may I suggest you add some color (and vitamin C) into your life with this seasonal salad which has become one my favorite winter dishes.
I created this recipe a couple of years ago, after eating at the hip farm to table restaurant Boon in the Russian River area of North California. With two children living on the West Coast, we have been fortunate and spent a lot of time eating and drinking in 'foody' California. The original recipe (see picture below), only has a mix of gorgeous beets, served with goat cheese and a citrus and mint dressing. However, I love adding oranges, especially the visually stunning blood oranges and the sweet Cara-Cara, to the golden and regular beets. And once you have the oranges, you might as well continue with some fennel and pomegranate seeds. Oh, and a recent discovery thanks to my mate Nick, add some vegetable chips for some crunch!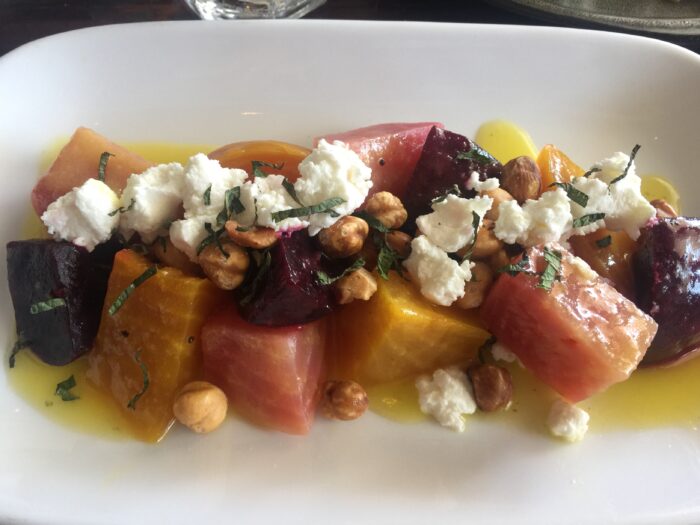 Stunning Winter Salad with Golden Beets, Blood Oranges and Goat Cheese
Ingredients
One bunches of beets, any color you can find, around 3-4 depending on size
two or three oranges, love a mix of blood oranges and Cara-Cara
small fennel bulb, keep the fronds to decorate
pomegranate seeds
small log goat cheese (feta would work too)
white balsamic or sherry vinegar (or Trader Joes Orange vinegar)
olive oil
1/4 tsp powdered English mustard
small shallot, finally chopped
Lightly toasted hazelnuts, roughly chopped (pistachios or almonds would be great too)
mix of salad leaves, arugula or baby greens
vegetable chips (like potato chips, but vegetables!)
a little mint or basil, julienne (rolled, then thinly sliced) and/ or Micro Greens
Method
It is super simple to roast beets. Give them a quick clean. Then make foil parcels. Before sealing the foil, drizzle a little olive oil and maybe some sherry or balsamic vinegar, over the beets and season with salt and pepper. Roast them in a 400f oven for around 50-60 minutes, until tender. Once they have cooled, they are easy to peel. Be careful, as the darker beets can stain your fingers. Cut into slices, quarters or eighths depending on how big the beets are. You are aiming for bite sized pieces.
Thinly slice the fennel.
Zest one of the oranges
Using a sharp knife, take the peel and pith off the oranges and cut out each segment, leaving the membrane behind. Reserve the pith or membrane to add a little juice to the dressing
make dressing by combining 2 TBS vinegar with 6TBS extra virgin olive oil in a jar. Add salt and pepper, 1 tsp of orange zest, chopped shallots and mustard. Shake well to combine. Add a little fresh orange juice from the reserved pith or membrane.
Lightly dress your salad greens with some of the dressing, and use them as your base layer of the salad. I find a shallow platter works best.
assemble salad by layering beets, fennel, and oranges on the greens
drizzle dressing on the oranges and beets, then top with pieces of goat cheese, hazelnuts, herbs, fennel frond and pomegranate seeds. And Vegetable chips!
This salad pairs really well with my Herbed Roast Salmon and Mediterranean Pesto Pasta.