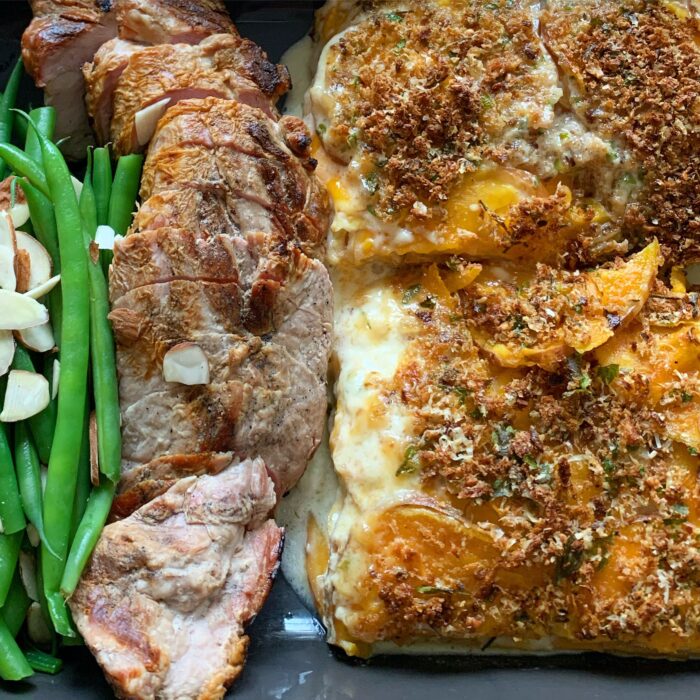 This Sweet Potato and Apple Gratin, slow baked in cream and finished with a crunchy topping of breadcrumbs and cheese is a perfect way to start comfort food season. It would also work as a great Thanksgiving side or something to serve with all that leftover turkey!
Comfort Food
There is something bittersweet about Autumn. Fall is gorgeous. We will still see lots of blue skies, and have some gloriously warm days, however we can no longer deny that there are short dark cold days ahead.
Because Winter is Coming!
But not all is lost.
Hygge
Let me introduce you to the Danish concept of Hygge. It is the idea that rather than fret about the cold and dark days, you embrace them. When I was tour guiding in Copenhagen, I would explain Hygge as being similar to the American saying 'If life gives you lemons, make lemonade! Hygge is cozy blankets, lots of candles (absolutely obligatory) and major snuggling. And comfort food! I would call this recipe, ultimate comfort food.
I started making this sweet potato and apple gratin last fall, during peak apple season, and became slightly obsessed with it. It is a riff on the classic French dish, Potatoes Dauphinoise (have I mentioned my potato obsession?) and a nod to a sweet potato casserole. Without the sugar and marshmallows. The sweetness comes from the apples, so it is sort of healthy. If you don't count the heavy cream.
As always, this a method-based recipe. The quantities will vary depending on how many people you are serving and the size of your casserole dish. I have given quantities, but don't hold me to them. I would, however, recommend making more than you need. This is the sort of dish that reheats well and tastes even better the next day. I tend to grill some pork tenderloin and serve a green vegetable with the gratin. I think it may also be excellent as a Thanksgiving side, or a new dish to try out with all those turkey leftovers!
Sweet Potato and Apple Gratin
I recently did a webinar showing how to make this recipe, the link is below.
Special equipment – I use a mandolin to cut the apples and sweet potatoes. Not essential, and slightly dangerous but it does speed up the process! I also grated my cheese using a microplanes. One of my favorite pieces of kitchen equipment! Links to both are included at the end of the recipe.
Ingredients
(feeds 4-6, so half the amount for 2-3 people)
Butter to grease a medium sized casserole dish
2-3 large Sweet potatoes, scrubbed, no need to peel
3-4 Apples, Granny Smiths are good for this but, honestly use whatever you have in the house. No need to peel
Lots of heavy cream (about two cups)
A little grated nutmeg
To finish a handful each of
Breadcrumbs ( I like panko, or make some of your own with leftover sourdough, looks like I only had wholewheat when I made the one in the photo)
Grated cheese, whatever you have …I used parmesan
Parsley to finish
Method
Preheat the oven to 400F
Cut both the sweet potatoes and the apples into thin slices. (Either using a mandolin or with a sharp knife, please be careful)
Grease the casserole dish with some butter.
Cover the base with overlapping slices of sweet potato (think shingle roofs), then overlapping slices of apple.
Season with salt, pepper and a little grated nutmeg.
Repeat until you have used all the ingredients, filled the casserole to the top or lost interest!
Pour the heavy cream into the dish until it is almost covering the potatoes (they will collapse during cooking)
Cover with some foil and bake for around 40 minutes until the potatoes are tender (might need a bit longer)
Grated cheese, whatever you have …I used parmesan
Bake for another 10-15 minutes until nicely browned and bubbling (how long may depend on the size of your dish).
Finish with some chopped parsley.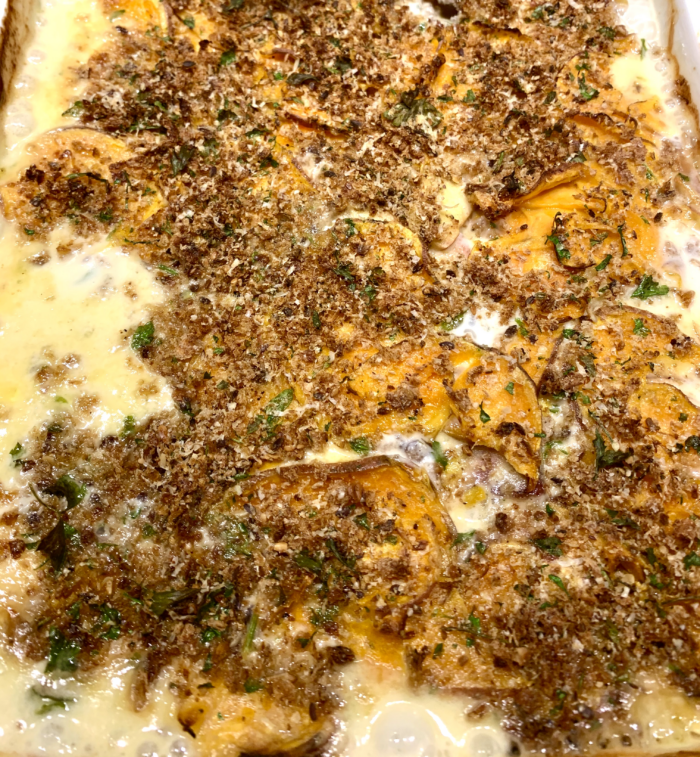 This dish reheats well too. If you are making ahead, you can bake until the vegetables are cooked but could top with the breadcrumbs and cheese just before baking on the day.
Variations
It did occur to me when I was making this recently, that a base of softened onions or leeks would be a great addition. Have not tried it out, but if you do, let me know what you think?
Giving Thanks!
To all my American friends, wherever you are , I wish you a very Happy Thanksgiving. Just four out of five of us at home today, no traveling no guests!
Shopping for kitchen equipment
I have found some links to mandolins and microplanes. If you buy through these, I earn a tiny commission at no extra cost to you!