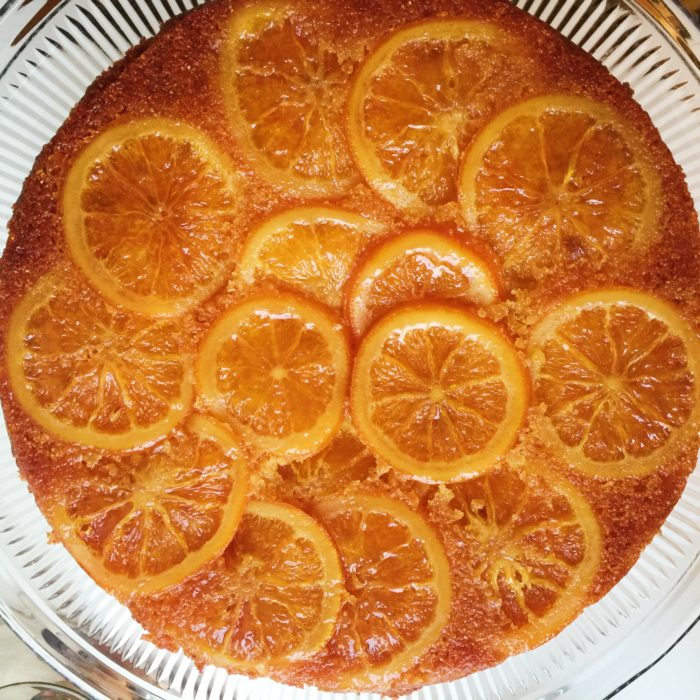 Upside down Orange and Polenta Cake – Gluten free flour works too!
February 2020- I am resending this recipe as I have recently discovered that replacing the all-purpose flour with gluten free flour works and produces a really lovely cake. I am also suggesting you experiment with the oranges, I have been using blood oranges and the effect is very pleasing!
This orange and polenta cake is loosely based on the classic Victoria Sponge recipe, but part of the flour is replaced with a mixture of ground almonds and polenta. Why polenta? To be honest, I am not quite sure but for some reason I just had a need to make a polenta cake. I was pretty happy with how it turned out  It is more substantial than a regular Victoria Sponge, and has a very pleasing, slightly gritty texture.
Orange Marmalade
I made orange marmalade for the first time earlier this year. I got the recipe from the lovely Ros. Find her on facebook @goodthingsfrommykitchenandgarden
A very satisfying if slightly time consuming process. However,  I did not realise just quite how much orange marmalade I was making.
Much as we like the odd bit of toast and marmalade, I am now trying to think of ways of up 'using it up', as my dad would say.  I have already given you a recipe for Marmalade Bread Pudding but in this Upside Down Orange and Polenta Cake, oranges takes front and centre stage.
Orange Slices
From making marmalade I learned that you you have to cook orange rinds for quite some time if you want to soften them enough to be edible. For this cake I poached the orange slices beforehand. Once cooked I am using them straight away as part of the cake. You could however dry them on a wire rack and they would harden into pretty crystallised orange slices, which would keep in the fridge until you found a use for them (dipped in chocolate perhaps?).
To Serve
I think this cake is absolutely delicious served slightly warm with caramel sauce (see recipe below) and creme fraiche.
Last time I made it I also sprinkled some gold leaf (thank you Magasin Du Nord), over the top.  It made a very impressive dinner party dessert.
Upside Down Orange and Polenta Cake
February 22, 2020
: 8-10
: not difficult
A gorgeous dense, slightly gritty upside down orange and polenta cake.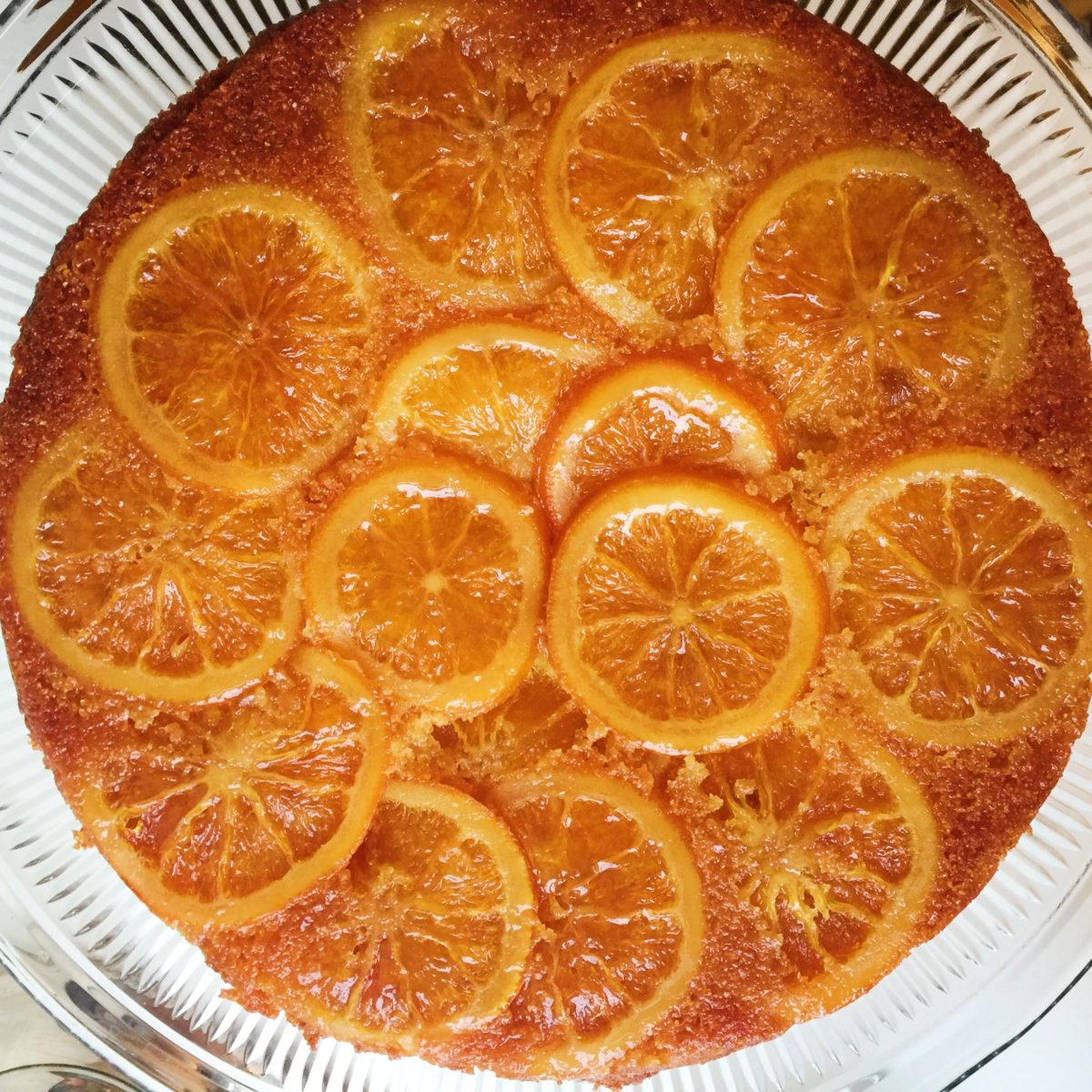 Ingredients
For the Orange Top
Two oranges,thinly sliced, blood oranges look spectacular if you can find them
1 cup/7 ounces /200g sugar
1 cup /240ml water
For the Orange Cake
250g /9 ounces butter, softened ( 2 1/4 sticks)
250g/9 ounces/11/4 cups sugar
4 eggs
140g/5 ounces/scant cup of plain or all-purpose flour(you can also use gluten-free flour, such as cup for cup)
100g/31/2 ounces/scant 2/3 cup polenta
100g /3/12 ounces/one cup ground almonds
2 tsp baking powder
1 large tablespoon marmalade
2 tablespoons of ricotta
For the syrup
1/3cup sugar
1/3 cup orange juice
Directions
Step 1

Heat oven to 160C/140C fan/320F

Step 2

Line a 9inch springform pan with parchment paper

Step 3

To make the sliced oranges

Step 4

In a large frying pan or skillet dissolve the sugar in the water.

Step 5

Add the orange slices and gently poach in the liquid for around an hour and a quarter or until the rind is soft and almost transparent.

Step 6

Arrange the slices in overlapping circles at the base of the springform tin.

Step 7

To make the cake

Step 8

Cream the butter and sugar together until light and fluffy. Add the eggs one at a time and mix thoroughly

Step 9

Add all the dry ingredients to a separate bowl and mix together, then fold into the creamed mixture  

Step 10

Finally add the marmalade and the ricotta.

Step 11

Add a little milk or liquid from the poached oranges if the mixture seems too dry.

Step 12

Transfer the mixture to the tin, spread evenly, over the orange slices.

Step 13

Cook for about 45 mins or until a skewer inserted into the centre of the cake comes out clean.

Step 14

Make the syrup by dissolving the sugar in the orange juice in a small pan over a medium heat.

Step 15

Remove from the oven, pour over syrup and leave to cool.
Caramel Sauce
February 22, 2020
: can be tricky
Make your own caramel sauce to add to desserts. Will keep in fridge for a couple of weeks. YUM!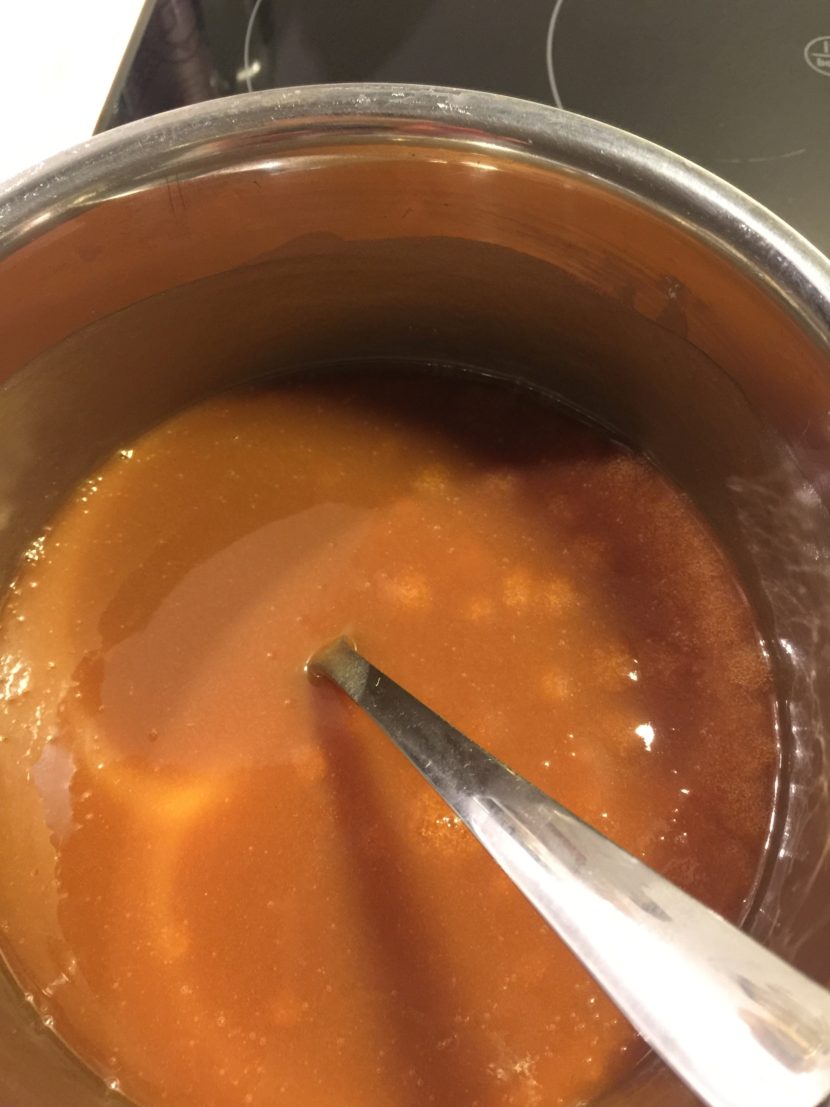 Ingredients
101/2oz/300g/11/2 cups sugar
3fl oz/80ml/1/3 cup water
10 fl oz/310ml/11/4 cup heavy cream
splash of vinegar or lemon juice
Directions
Step 1

In a heavy bottomed pan add sugar, water and a little splash of vinegar. The vinegar stops crystals forming but does not affect the taste. 

Step 2

Melt the sugar over a low heat until it is dissolved. Do not stir. Increase heat to medium and boil until sugar turns a deep brown, be careful as mixture goes from perfect to burnt very quickly. 5-7 minutes, do not be tempted to stir

Step 3

Be careful caramel is very hot! Once it has reached the desired color take pan off heat.

Step 4

Slowly add the cream, it may bubble up.

Step 5

Return pan to a low heat and stir until the mixture is smooth. The caramel will thicken as it cools